Discover more from European Straits
The Entrepreneurial Age, viewed from Europe
Over 10,000 subscribers
10 Inspiring Places I Discovered in the 2010s
European Straits #153
Hi, it's Nicolas from The Family. Merry Christmas 🎄 Today, I'm sharing a few thoughts and sources about 10 cities and places I discovered and came to love over the past ten years.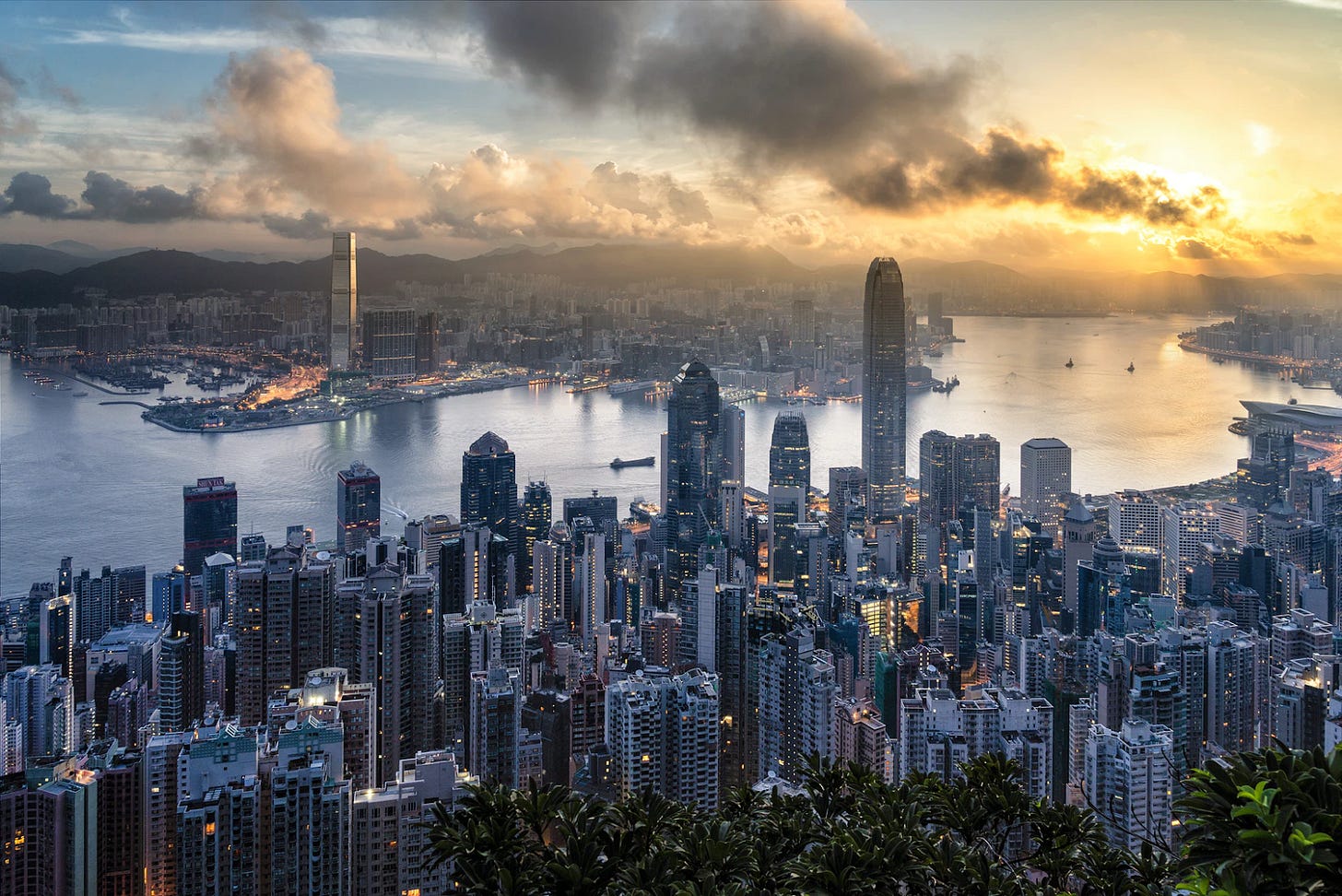 As everyone is away on vacation, I don't expect much readership for this newsletter. And so, as always in such circumstances, I wanted to share a few personal stories—in this case, inspiring cities and places I've discovered over the past 10 years and why I love them. (This doesn't include some cities that I love, such as Copenhagen, but which I discovered before the 2010s.)
As a preamble, I should point out that I haven't really traveled much in my life. Growing up, my parents simply didn't have that kind of money, and so I only traveled outside France when visiting family in Germany. Then in 2005 I spent 5 months in Vilnius, Lithuania for work. And it was only in 2007 (at the age of 30) that I crossed the Atlantic for the first time (going to Washington, DC, Philadelphia, and New York with my newlywed wife Laetitia Vitaud). 
This lack of a travel habit explains why I always wait to be invited (usually for work) before I take a plane or a train and go visit some new foreign place. Indeed you'll see that most of the travel stories below are related to work. This is why I also added two related articles by destination: one written by me and another written by someone who knows the place better than me. I hope you enjoy! 👇

1/ Silicon Valley 🇺🇸 My first stay in the Bay Area was in 2012. At the time I was working on corporate taxation in the digital age, and it seemed relevant to go talk to those large tech companies that were paying so little in taxes in France. It turned out that almost nobody was interested in meeting me to discuss that particular topic (it wasn't as hot as it is these days). But I still met interesting people (among them Brad Templeton, Ari Gesher, and the head of Google's tax department). Many people will tell you that there's nothing to see in Silicon Valley, which is mostly true. But being there is about the experience: renting a fancy car, driving back and forth on both highways (feel free to privilege the 280), enjoying the smell of pine trees, staying in kitschy hotels, and simply feeling the energy of this vibrant ecosystem. Things have changed since then, as the tech industry has clustered up north in San Francisco and Oakland. But I still prefer South of the Valley, which makes me an exception.
2/ Venice 🇮🇹 I should have gone to Venice sooner—all the more so because I've been fascinated by the city since my teenage years (thanks to Hugo Pratt's Corto Maltese: Fable of Venice). But I only went in 2013 when I was invited to give a talk on the digital transition in agriculture. There was a whole package on top of the speaking engagement: three nights at a fancy hotel overlooking the Grand Canal, going around in a gondola, having a dinner where all the participants wore Venitian masks—you get it. At first, I was reluctant to participate in what I expected to be a cheap touristy thing. But Laetitia, who was there with me, convinced me to play along, and I must say it was all pleasure and fun (and I learned almost everything I now know about agriculture talking with other participants). All in all, there's so much beauty in Venice that you end up being bored by it (in the mood of "Oh, yet another stunning view of an old church or a beautiful bridge"). I've since learned more about the incredible history of Venice and this book by Roger Crowley, in particular, is absolutely breathtaking.
3/ Rome 🇮🇹 Laetitia and I loved Venice so much that we wanted to explore Italy more. The next opportunity came with yet another speaking engagement, as former OECD tax chief Jeffrey Owens invited me to share my thoughts about corporate taxation as part of an international gathering in Rome in 2014. So off we went, and it was almost as stunning as Venice. If you know Rome, you know what I have in mind: it's derelict and somewhat dirty, yet incredibly beautiful. And although there's not much happening in Rome in terms of business, the presence of the Catholic Church makes the city vibrant, with so many people flocking there to visit churches and spend some time near the Pope. Most of the time, Laetitia and I walked, and walked, and walked, as everyone should do in Rome. I've since been back several times, and I'm now connected to insiders who've all shared excellent tips to turn Rome into an even greater experience. I really recommend making the trip!
4/ London 🇬🇧 To be fair, I had already been to London before the 2010s—but only twice, and never for longer than two days. So when I went again in 2015, this time to live there with Laetitia and our two kids, it was a genuine discovery. After almost five years, I can't pretend I know all of London: it's much too big, and being a resident comes with a resident's mindset, namely spending most of your time in your small neighborhood (which for me is Islington/Shoreditch/Dalston). But London is an incredible place, one that I feel optimistic about despite the nightmare that is Brexit. People come from all over the world to live here, all facilitated by the English language. It's home to thriving industries (entertainment, finance, and now tech). It's a foodie paradise (just try the street food at Spitalfields Market). It's easy to move around (the frequent double deckers made me fall in love with bus transit). And most parts of London are stunningly beautiful (and I was in Paris before, so the bar is high).
5/ Hong Kong 🇭🇰 In 2015, I got invited by the Hong Kong government to spend a week there and discover the place, its economy, and its political system. I went without knowing anything about what I would discover (it was my first trip beyond the 27th meridian east). But I absolutely fell in love with Hong Kong. The conditions of that trip helped, of course—including being flown over the island in a helicopter. But there are two things that to this day make Hong Kong my favorite city in the world. One is the breathtaking beauty of Victoria Harbour, which you can see in the picture above. The other thing that makes Hong Kong so fascinating is the footprint of history: it's now very much an Asian city, as described by Maciej Ceglowski in the article below; but from time to time you can spot remains of Britain's imperial past. And this is what I prefer in cities: when you can feel, simply by walking around, the (often terrible, sometimes inspiring) things that happened there a long time ago.
6/ Wolfsburg 🇩🇪 Now you're saying, "Where?" Wolfsburg is an industrial city in Lower Saxony, Germany. You might know it as the place where Volkswagen was founded and is still headquartered. But Laetitia and I first heard about it because of a 3-star Michelin restaurant named Aqua. So in 2016, as we had to travel across Germany to visit my parents-in-law in Berlin, we decided to stop by and have dinner at Aqua. What an experience! You should look at pictures, but imagine a fancy restaurant in a fancy hotel right in front of a giant VW factory that's still running, smoking chimneys and all (all part of the Autostadt, a fun park entirely dedicated to Volkswagen brands, which include Lamborghini and Porsche). What Laetitia and I prefer in Wolfsburg is the odd experience of swimming in an outdoor pool right in front of the factory. But we're also fascinated by the impression that it's the last standing castle in the decaying Fordist economy of the 20th century. It's surreal and tragic at the same time.
7/ Lisbon 🇵🇹 I admit it's simpler to make the case for Lisbon than for Wolfsburg: it's beautiful; people are incredibly nice; and it's by the sea. What's more, if you work in tech like me, you probably know people who have made Lisbon their home because they like the lifestyle and the cheap prices. And Lisbon is changing. It's now attracting so many tech people (and wealthy people, because of a favorable tax regime) that prices are going up fast. Portugal as a whole seems to be racing ahead of other Southern European countries in terms of economic development thanks to an innovative approach to economic policy. My personal theory is that because Portugal used to be a thalassocracy, it's uniquely ready to find its place in today's digital economy (see the article below for details, as well as this other book by Roger Crowley). I first discovered Lisbon in 2017 (again, thanks to a speaking engagement), but my family and I have visited several times ever since—and we're actually in Portugal right now!
8/ Shanghai 🇨🇳 was my first time in Mainland China. I spent a week there in 2017 to teach at Fudan University. It resembles Hong Kong in some respects: the beautiful skyline, proximity to the water, the fact that every street sign is also marked in English. But Shanghai was also an opportunity to learn about the People's Republic of China. Indeed, whenever I travel in a given city, I want to know its history and how it was shaped by it, and Shanghai is fascinating in that regard. Along with Shenzhen, it was one of Deng Xiaoping's special economic zones, which were ground zero for experimenting with the development strategy that has turned China into the economic powerhouse that it is today. And long before that, Shanghai used to be a connection between the East and the West. You can still walk through the old French Concession and realize just how the tide has turned: China is powerful now, and looking ahead—whereas France, the old colonial power, is not much on the map anymore.
9/ Jerusalem 🇮🇱 was part of my trip to Israel at the end of 2018 to talk about my book Hedge, by invitation of my friend Emmanuel Bismuth. I was warned against Jerusalem, in the mood of "You'll see, everything in tech is located in Tel Aviv. In Jerusalem there's nothing but old stones and religious people." Even Israelis were surprised that I was due to spend half of my trip there. But there were many good reasons to do so. One is that Emmanuel lives in Jerusalem, and visiting the city with him was an absolute delight. Also, having grown up in Catholic France, I've always assumed that Jerusalem was kind of the center of the world, and I couldn't help but feeling emotional about being there. A third reason is that there's actually a nascent startup ecosystem in Jerusalem, with brilliant entrepreneurs such as Lightricks's Zeev Farbman, inspiring ecosystem builders such as Ben Wiener and Roy Munin, and many others. In the end, I didn't want to leave and I'm really looking forward to going back with my family.
10/ Singapore 🇸🇬 was earlier this year. I thought I knew what to expect—that is, another Hong Kong. How wrong I was! Like in the case of Shanghai, I started with reading a lot about Singapore, and I ended up combining two inspiring perspectives. From Third World to First is the memoir of Lee Kuan Yew, the founding father of Singapore: in it, you'll learn everything about the unique set of policies that has made Singapore so prosperous over the past decades—and you'll realize how brilliant Lee was as a strategist. The other is The Art of Charlie Chan Hock Chye, a masterful graphic novel by Sonny Liew that offers a more ambivalent perspective on the tumultuous journey of Singapore. Taken together, both reveal the wealth and depth of Singapore's history. May I add that the city is stunningly beautiful; it's diverse, multilingual, and connected to the whole world; the quality of life is way higher than in Hong Kong; and I now have good friends there, so I'd like to head back there soon, hopefully for longer!
From Santa Bárbara de Nexe, Portugal 🇵🇹
Nicolas