Discover more from European Straits
The Entrepreneurial Age, viewed from Europe
Over 10,000 subscribers
10 Tech Giants That Are (Almost All) in Bad Shape
European Straits #149
Hi, it's Nicolas from The Family. Many US tech giants have been going through a rough patch recently. And so today I simply wanted to sift through the list and assess the situation.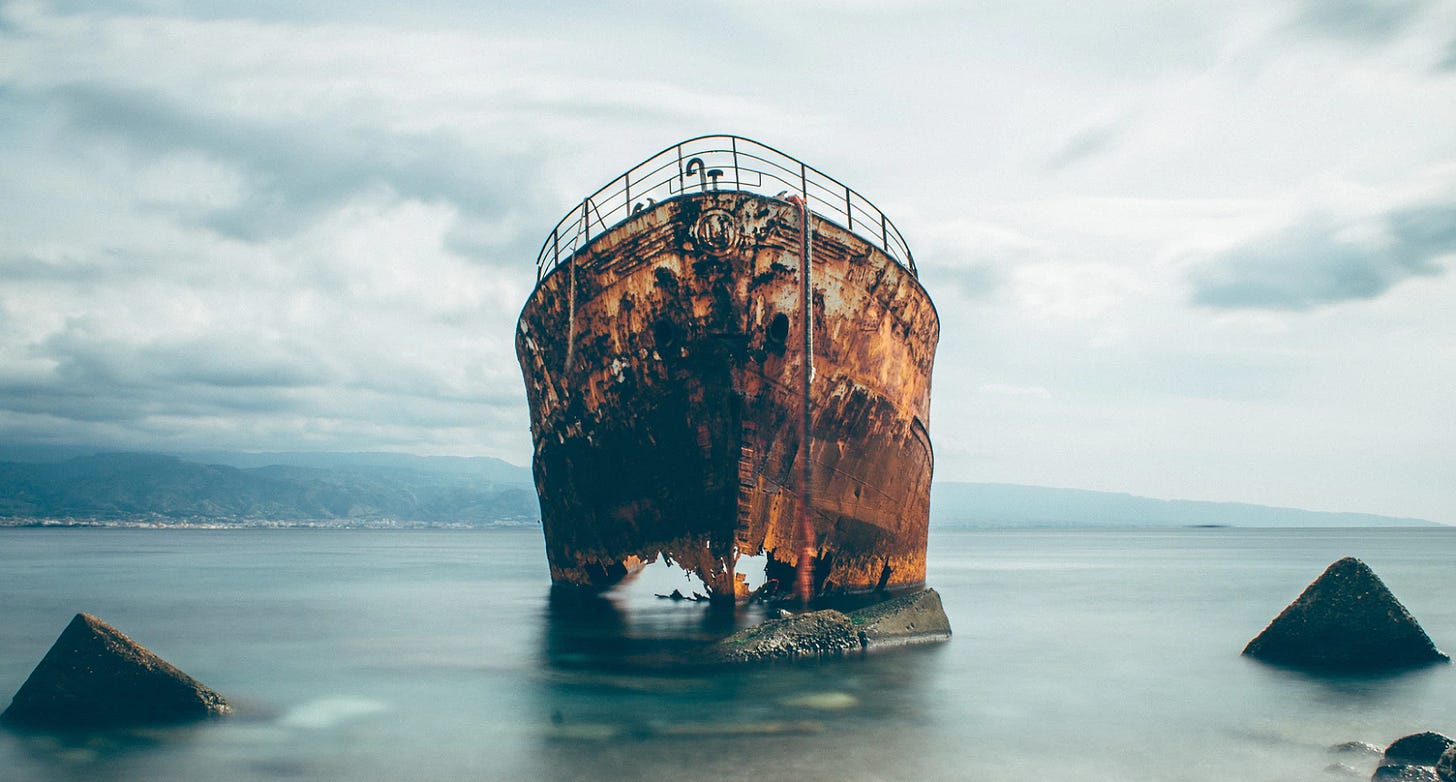 For three years now, Tom Wehmeier, partner at Atomico, has overseen the annual publication of the firm's State of European Tech Report. Tom's report is a much-needed effort at documenting what's happening in the European startup world and at making Europe more aware of its own state of affairs. We need to know where we stand if we ever want to move forward. Gathering and highlighting data on everything that's happening across the continent is the right approach to do just that.
This year's report has just been released, coinciding with the Slush conference, and the core message is that things are going well. As summed up by my colleagues at Sifted, there's more money, more ambition, booming sectors such as fintech, and more capital flowing in from all around the world.
That being said, we should also curb our enthusiasm regarding the numbers, as the same things are also happening elsewhere. Europe is making meaningful gains, but so is the rest of the world. Venture capital is booming worldwide—not only in Europe, but also in Asia, the Middle East, Africa, areas of the US that are not Silicon Valley, and even in Silicon Valley itself. According to an analysis of PitchBook data by my friend Ian Hathaway, Europe's share of global venture activity has been about flat this decade. Our continent is not so much racing ahead as it is rising with the global tide.
So is this the best we can do? Or are there macro-trends that could provide Europe with an opportunity to reposition and rise faster than the rest in the future?
⚠️ One macro-trend that I think is worth our European attention is the crisis that many large US tech companies are going through at the moment. I wrote my latest column in Sifted on the topic, you can read it here: US Tech Giants Are Vulnerable. Can EU Startups Benefit?
In this issue I wanted to complement my Sifted piece by simply going through the list of the largest US tech companies and highlighting the problems that are piling up for most of them. I only selected public companies, and I've vaguely ranked them from "worst shape" to "best shape". Read along 👇

1/ Facebook is facing at least two problems at the same time—and that's one too many. One is that it's dealing with political hostility from all sides—in Europe, and at home. In the US, Republicans have always been hostile because of an alleged "anti-conservative bias". But now Democrats have turned against Facebook, too, because it seems to have played such a role in Trump's election and its executives have been forced to cozy up to right-wing personalities and to Trump himself—to the point that Facebook is now called "the right wing's social network". But then there's the other problem: although overall engagement seems to be going up, more users, especially the young, seem to be migrating to Instagram, Snapchat, TikTok, and Pinterest. Now, Instagram is also owned by Facebook, and so the company is still doing well because of a smart acquisition. But it nonetheless appears to be the most fragile of the tech giants. When your business model depends entirely on trust and engagement, you can't survive irritating longtime users and boring a growing proportion of the younger ones. (And let's not forget that there are problems with Libra.)
2/ Alphabet (Google) isn't doing much better. They've managed to keep the Trump administration at a distance, thus avoiding the toxicity that is currently consuming Facebook. But still, problems are piling up. There are all the regulatory challenges around taxation, censorship, and copyright, notably in Europe. There are the internal crises that have been triggered by potentially selling technology to the Department of Defense, attempting a comeback in China, and complaints regarding improper conduct by senior leadership. Then there's the ongoing discussion over Google's dominant position in search, with blows recently struck by both the European Commission and Yelp's Jeremy Stoppelman. The result is a deep cultural crisis for the organization that has forced its executive suite to switch to a less open management culture. I still find that Google's products are excellent, especially Search, Maps, Gmail, and even Youtube, but Google's brand as an employer is damaged, and that's not a good sign.
3/ Apple has a big China problem. It depends on China for selling its products: more than 15% of iPhones have been purchased by Chinese consumers over recent years, and with the developing "Second Cold War" between China and the US, Apple is losing market share to Huawei and Xiaomi. Apple also depends on China for manufacturing its products, and Trump's tariffs are particularly painful in that regard—which explains why Tim Cook had to go through a humiliating photo-op with Trump in a factory in Texas. What's more, as a long-time user of Apple products, I realize that the quality has been going down. There used to be a time when those "Get a Mac" ads ridiculed the Windows universe and made clear that Apple computers had unique features like "no need to restart your computer" or "no interruptions by annoying notifications". I must say that those features have now disappeared and Macs have become almost as shitty as PCs in terms of the user experience. Steve Jobs was a ferocious guardian of the integrity of the products. Now that he's gone, it's going awry in many respects.
4/ Uber. Where to begin? I still refuse to join the crowd in screaming at Uber. We needed that large-scale experiment in upgrading urban mobility, and I'm glad they contributed. I'm also convinced that Uber could break out of its unprofitability trap by borrowing from the Amazon playbook. Amazon, too, would lose money if it was only a retailer. The reason why it makes money is because it combines retail, a marketplace, a cloud computing platform, and many other things. I know that Dara Khosrowshahi has exactly this vision in mind (after all, he was previously the CEO of Expedia). But it might be too late to implement it. 2017 was a nightmare and the resultant changing of the guard has been a trauma. Regulators all over the world are still erecting obstacles that make it complicated for Uber to grow and diversify. Now that we're past the IPO, employees can sell their shares and leave the company (at least those employees not being laid off due to a lack of cash). And have you heard that Uber has once again been stripped off its license to operate in London, arguably one of their biggest markets worldwide?
5/ Tesla. Elon Musk's company, which has been public for more than 10 years, is one of the most shorted by hedge funds worldwide, so the assumption is that it's perpetually in bad shape. There are structural problems, like the fact that building cars, even if they're electric, is extremely hard. There's a scale issue: because of the low margins in the car industry, you need large volumes to make a profit, while Tesla is still positioned toward the high end of the market and has difficulties in scaling up production. Finally, there are the problems with Elon Musk's unique style of management, as well the difficulties that the company went through after it tried to merge with SolarCity—a move that now Musk admits was a mistake, and that has probably caused many within Tesla's ranks to lose focus. Still, Musk masters the art of making people dream; those who own a Tesla seem to like the product; and the macro-trends suggest that electric car sales will only go up, so we'll see!
6/ Snap. The most interesting discussion I took part in regarding Snap involved (surprise!) a comparison with Facebook. Basically, the idea was that Snap is the byproduct of a genius designer (Evan Spiegel), which makes it fragile because if Spiegel ceases to deliver, it can only go down. In comparison, Facebook is deprived of that genius touch, but Mark Zuckerberg is such a focused strategist and Sheryl Sandberg such an effective operator that they're able to copycat Snapchat and grow their business, with a clear playbook that's widely shared with employees across the organization. That conversation took place with Snap having just gone public and its stock price being in freefall as investors doubted its ability to grow and make money. Since then, however, it's gone up again—in no small part, I think, because of Facebook's woes, but also because Snap taps a very strong vein, that of people live-streaming their life for their friends (a trend that also explains the rise of TikTok).
7/ Netflix. Just last year I would have said that Netflix was in very good shape. It was a battle-tested company with an appropriate strategy of moving upstream in their value chain (that is, producing content rather than merely distributing it). But Netflix is likely to have problems in the future due to mounting competition in the TV subscription space. There was a time when the battle was just between Netflix, Amazon, and Hulu (which is not available in Europe). Now we have Disney joining the game, as well as AT&T, and Apple (and I suspect YouTube hasn't given up on the idea of pushing their Premium offer). So what we'll witness in the future is a race to the bottom in the TV industry. Conglomerates like Amazon and Disney will have an advantage because they can run subscription TV as a loss leader. But at some point either rights holders or governments or both will intervene to force consolidation. I'm not sure that Netflix would emerge as the winner if that scenario unfolds.
8/ Twitter was trapped in a corner for a very long time: struggling to make money and decried for fueling anger and spreading fake news. But I must say they've made a spectacular comeback. From my viewpoint, it's the primary source for discovering relevant and interesting content. It's where many fruitful conversations are now happening between professionals from different industries across the world. The asymmetrical nature of the "Follow" relationship makes it possible to escape all the bad things that have made the Facebook newsfeed so boring and corrupt at the same time. And they're now rather profitable. This is not to say that Twitter doesn't have problems. The very nature of the platform means they still have to deal with many controversies. But in a social media space that's going through both turmoil and rapid fragmentation, they're holding their position quite well.
9/ Amazon has long been a darling of mine. I like them because they've been pioneering the model of a hybrid company that operates both tangible and intangible assets. Also, Jeff Bezos is the most clear-sighted strategic thinker of our time. So even in these times of backlash I find them in much better shape than other tech giants. One thing they've managed to do was keep Donald Trump at a distance. In fact, Trump hates Bezos so much that the latter, unlike Facebook's Zuckerberg, can never be embarrassed by dinner invitations to the White House. Another factor in Amazon's strength is that they're very focused on Western markets, which means that they don't have much to lose in the Second Cold War with China. However there are still things that create problems for Amazon. One is a lower quality of products and product reviews on their marketplace. Another is their failure at diversifying on the grocery market. Yet another is the fact that they've been moving away from their customer-centric approach in favor of boosting their profitability—a trend that Ben Thompson says is "the surest sign of harvesting instead of investing" (maybe it's because Jeff Bezos has been quite distracted recently?).
10/ Finally, Microsoft is doing surprisingly well. That really is a surprise for me because I studied computer science in the late 1990s, at a time when the world was basically divided in two: on one side was the evil empire of people using PCs equipped with Windows; on the other side were the geeks and hackers using Linux and open source software (Apple hadn't made its big comeback yet). My worldview was shaped by this experience and accordingly I long had a very bad image of Microsoft: the monopolistic company that forced all of us, especially in a corporate context, to use ugly PCs running their terrible products ridden with bugs, viruses, unwanted notifications, and bad interfaces. Now it's twenty years later and Satya Nadella has not only put Microsoft back on the right business track, he has also transformed its image by shifting the focus to cloud computing (Azure), open source and software programming (GitHub) and even social media (LinkedIn, which, I'm told, is the only social media platform with reach for serious written content these days.) I still can't say that I'm using any of their products, except for LinkedIn, but hats off to Microsoft, and keep up the good work.
I've added articles to go further on each company, so no reading list at the end of this issue!

🔥 My colleague Irina wrote about our The Family Begins program and the experience of trying to provide better entrepreneurial resources to founders coming from Central and Eastern Europe—a key step in our efforts to build an effective pan-European ecosystem: Setting entrepreneurial ambition on fire!
🖥️ D-code is our growing community for up-and-coming technical talents, focused on showing that entrepreneurial stories are embodied not only by the CEO, but also by the CTO. Alexandre Galinier, CTO at Schoolmouv, shared his experience in this profile: D-code Portait: Alexandre Galinier, CTO at SchoolMouv.
🎲 Our AAA program manager Pietro is a great example of how Twitter can be a fount of knowledge. A few days ago he published his latest meta-tweetstorm, the best 10 threads he'd read recently on early-stage investing: The 10 most interesting VC/startup-related tweetstorms I've read in the last couple months.
🚀 Finally, we were impressed to see one of our newer startups, Vybe, send a note to say that they had hit #1 in their category in the App Store. Not an easy feat in 2019, but it goes to show what can happen when you combine a big problem on a specific market (banking solutions for teens) and meticulous product development.
From London, UK 🇬🇧
Nicolas