Discover more from European Straits
The Entrepreneurial Age, viewed from Europe
Over 10,000 subscribers
Hi, it's Nicolas from The Family. Today I'm compiling all my past essays dedicated to various countries and how they're faring in the Entrepreneurial Age.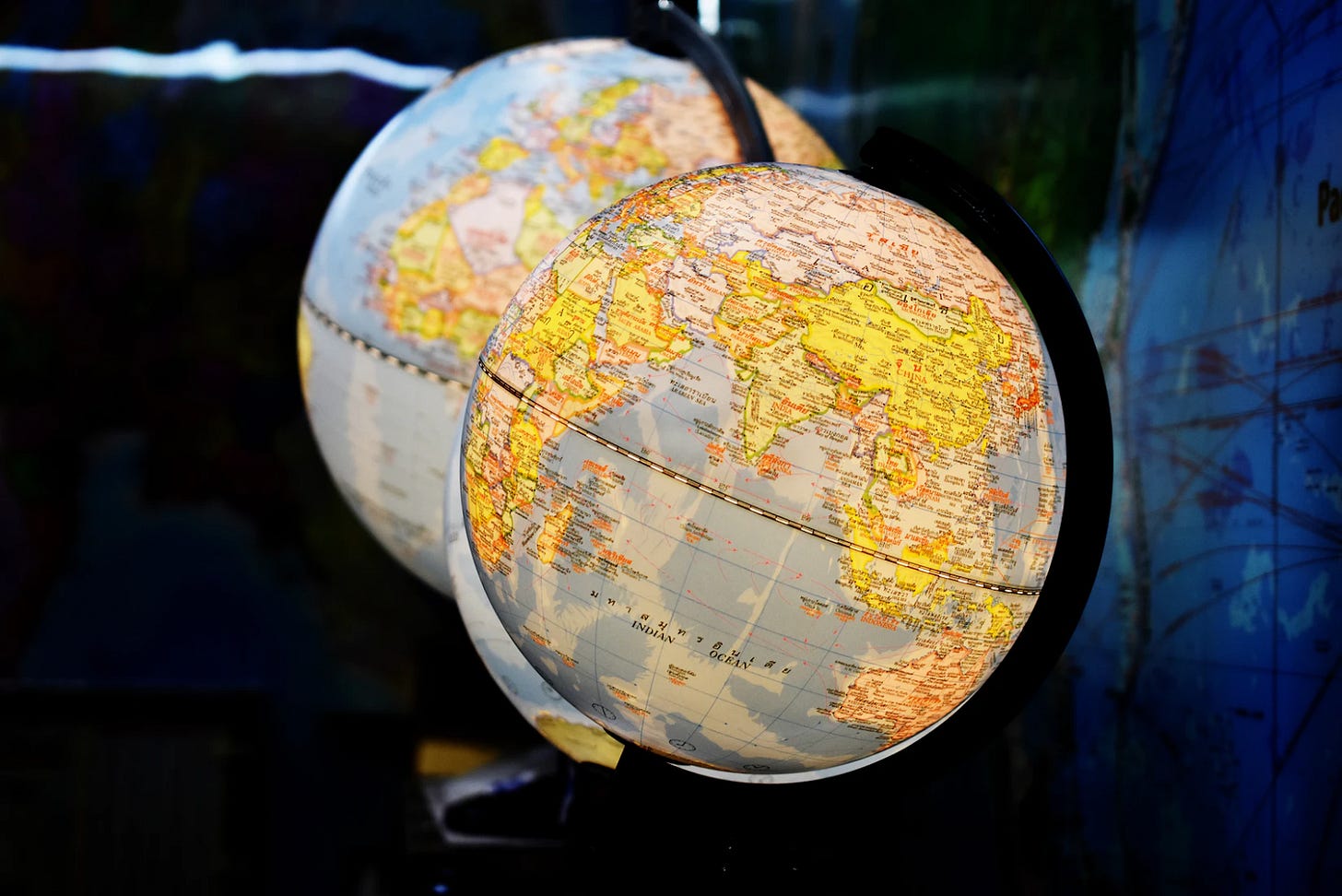 It's August, which means (almost) nobody's working these days—enjoying a well-deserved break after a few quarters that this year were made even rougher by the pandemic. As such, I won't bother you with new ideas. Below is simply a compilation of all the past editions of European Straits that were dedicated to specific countries. It's partly random (I wrote about places I visited), partly systematic (I recently started a series of country focuses with a more rigorous approach). Click on the links depending on your interests!

I wrote this after my one and only (to date) trip to Estonia. The trip was to attend a gathering of economists and social scientists sponsored by the Institute for New Economic Thinking, on the initiative of my then-colleague Laurène Tran. I had the pleasure of reconnecting with friends such as Carlota Perez and Bill Janeway and discovering the fascinating Mary O'Sullivan and her work on capitalism. I then stayed a bit longer so as to learn more about the local startup community and how it relates to what the Estonian government is doing on the technological front. Sten Tamkivi, in particular, was especially helpful, to the point that I decided to write this brief report shortly after coming back.
Sadly, I can't say I've ever travelled to South Korea. Maybe that time will come, COVID-19 permitting! However I decided to read about the country and its very interesting tech scene after a meeting with Fleur Pellerin, a former cabinet minister in France and now a venture capitalist with Korelya Capital. Fleur's firm is a bit unusual in that it invests money from a single LP, the South Korean tech giant Naver. And the underlying thesis is quite inspiring: basically, Naver would like more European countries to become like South Korea rather than trying to emulate the US. I discuss that thesis and reflect on what European countries would have become had they grown their own version of Naver.
I visited Switzerland and had great interactions with entrepreneurs and investors there by invitation of my friends Ben Robinson and Dan Colceriu, now with Aperture. It was an interesting experience in terms of experiencing the Swiss ecosystem. Switzerland tends to be the European country you constantly forget because it's so tiny and it's not a member of the European Union (following a long tradition of strict neutrality). But there are many things happening there indeed, especially in fields such as financial services (Switzerland is a financial powerhouse, and it translates into lots of startups entering that field, just as in London) and a sector I learned about while there: compliance ("RegTech").
This was part of the tour I made to promote my book Hedge in startup communities around the world. I love Copenhagen, which I think is one of the most beautiful places in Europe. And I love Denmark, a country that I find tolerant, inclusive, creative, and entrepreneurial. There's an interesting startup community in Copenhagen, very tight and with quite a lot of success stories from a European perspective. It's also close to the Swedish city of Malmö, which is right across the bridge and provides Danish entrepreneurs with access to the incredible technical talent in Sweden. For more on Denmark, you shouldn't miss my 11 Notes on Lego as well as this piece by my colleague Mathias Pastor.
My trip to Israel at the end of 2018 was also to speak about my book Hedge, by invitation of my dear friend Emmanuel Bismuth, who lives in Jerusalem. As I mentioned recently, this is also when I met Ben Wiener, a local investor who's a pillar of the Jerusalem startup community. Israel is worth visiting for anyone interested in startups, since it provides a rare example of a small country that's managed to grow an incredibly successful entrepreneurial ecosystem. As I explain in my essay (and as documented in the excellent book Startup Nation by Dan Senor and Saul Singer), it's all the result of sound decisions made by Israeli policymakers and entrepreneurs back in the 1990s. Have a read, then dig deeper!
The next step in my trip to promote my book Hedge was in Italy, by invitation of my friend Raffaele Russo, a former colleague at the OECD who's now with the Italian ministry of finance and is engaging with the various Italian startup communities. My colleague Pietro Invernizzi (who's now with Stride VC in London) and I (and my daughter Béatrice) went from Milan to Rome to Naples and met quite a lot of people in both policy, ecosystem building, and entrepreneurship. What we saw is a lot of goodwill, but a country that's still lagging behind in the race to build successful tech companies. It inspired me to write this essay about Italy in the Entrepreneurial Age.
I didn't know much about Singapore before I went there to participate in a summit with Singaporean economists, entrepreneurs, and policymakers. I made sure to prolong my stay to have more time to meet local founders and investors. (This is where I met James Crabtree, author of The Billionaire Raj, which helped me a great deal while writing about India 👇) I came back fascinated by the place and curious about how Lee Kuan Yew turned it into one of the most advanced economies in the world. Singapore is a topic I intend to cover more in the future, but in the meantime you can read this essay focused on the question of languages. 
More recently, geopolitical strategist Peter Zeihan inspired me with the idea of writing about how major nations are faring in the Entrepreneurial Age. Obviously, I had to start with the US: it's (still) the most advanced economy in the Entrepreneurial Age, and it's also the country I know the most about from a historical and business perspective (yes, much more than my own country of France, as a matter of fact). To sum up, let's say it's a mixed bag: I'm convinced the US retains many strengths that will preserve it from total collapse; however, we all need to let go of the idea that America will remain as engaged with the world as it has been for the past 70 years.
Quite logically, the next step was to write about China. I know much less about it than the US, both because my interest is much more recent and it's actually very hard for a Westerner like me to learn about a country that's so different from so many perspectives. However, I've been compelled to dig deeper into Chinese studies by the rapid rise of the Chinese tech world on the global stage, I've travelled several times to Mainland China (and met entrepreneurs and investors on the ground), and I've been reading A LOT on the topic since at least 2017. In this essay are all the lessons I've drawn so far—and the questions that remain.
I find Germany overrated. It's a country that has been so powerful and so prosperous at different times in the past (both recent and distant) that we tend to expect it will produce successful tech companies just like any other developed country. However, as I explain in this essay (and in a subsequent follow-up in the paid section of European Straits), there are many things—economic, demographic, cultural—that contribute to Germany lagging behind in the Entrepreneurial Age. Since I wrote the essay in April, Germany has been faring better than expected, with its relative success at containing the pandemic and the landmark fiscal agreement with other EU member states. But there's still a long way to go.
If Germany is overrated, what about Britain? It's quite a paradox that a country that had everything it needed to succeed in the Entrepreneurial Age has so methodically undermined its case over the recent years—first by deciding to leave the European Union (which, in case you were wondering, is still unfinished business), then by blowing its response to the pandemic. As I detailed in a follow-up essay in the paid section, the UK still harbors the best and most supportive entrepreneurial ecosystem in Europe. But I find its specialization in financial services worrying, and we haven't seen anything yet in terms of the economic backlash the country will have to weather once Brexit actually happens.
It seems not a day passes without another major investment by a large US tech company or PE firm being made in Reliance Jio Platforms, the fast-growing tech conglomerate propelled by billionaire Mukesh Ambani—the richest man in Asia and a close ally of Prime Minister Modi. In this essay, I build upon James Crabtree's excellent The Billionaire Raj to discuss the rise of Jio Platforms from a historical and global perspective, and I discuss what India could become in our continuously fragmenting world. It's possible that India provides us with yet another path—read: yet another source of inspiration from a European perspective—to economic development in the Entrepreneurial Age. 
I thought I would continue the series without dedicating an essay to my home country of France, but then Macron (who, like me, started his career at the Inspection générale des finances) replaced his Prime Minister (as Edouard Philippe, who's from the Conseil d'Etat, left the stage to Jean Castex, an alumnus of the Cour des comptes). It inspired this essay which is part personal story, part reflection on the formation of the French elite, and part discussion of how France's inner workings contribute to its lagging behind in the Entrepreneurial Age. And I'd note that it was written quite hastily, yet it's one of my most-read essays ever! So definitely give it a try if you haven't already.

Just one last bit of news about current events before I put this section on pause:
Bad news. One of our portfolio companies, Zenaton, closed down recently. Here's the article that Gilles Barbier, its founder & CEO, wrote to share the news: Zenaton is closing. Gilles is a dear friend, a former director (and CTO) at The Family, and a veteran of the Paris startup scene. I wish him well—and you can help Zenaton rebound as it pursues an open-source strategy. 

Good news. My cofounder Oussama Ammar just launched his personal website, which compiles everything he's ever said (in written form and video), as well as various resources if you want to be kept in his personal loop. I admire that he's coded the entire thing himself using Ghost. Check it out here: https://daedalium.com/
As for me, I'll be working on my personal website as well, but I'll build it in Notion rather than Ghost—complementing the archive I'm currently developing for my paying subscribers. Stay tuned—and subscribe if you want to discover the archive in a few weeks! 👇

From The Entrepreneurial Investor & Readings on Capitalism (May 2020): 
The global economy is fragmenting at an accelerated pace. This has numerous implications for investors when analyzing the size and characteristics of a business's total addressable market and assessing the future return on invested capital. It also contributes to reinforcing the influence of the state over how business is conducted on a given domestic market. In any case, it's time investors learn to account for the local context in this shifting global landscape.
And in case you missed it:
---
From Normandy, France 🇫🇷
Nicolas