Discover more from European Straits
The Entrepreneurial Age, viewed from Europe
Over 10,000 subscribers
The Rise of a New China
European Straits #169
Hi, it's Nicolas from The Family. Today, I'm pursuing my series focusing on specific countries, how they've been faring so far in the Entrepreneurial Age, and what the COVID-19 crisis reveals. Here's China 🇨🇳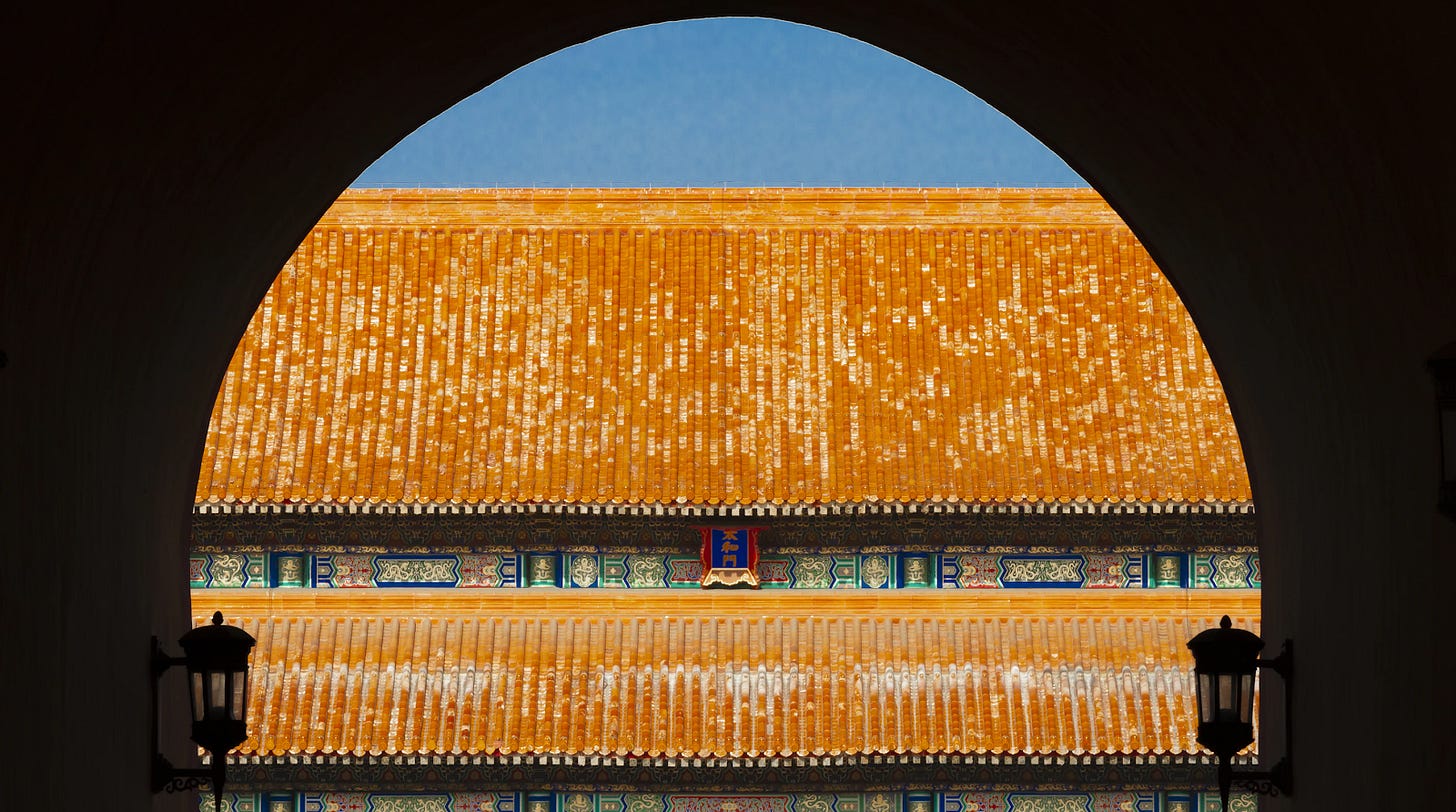 ⚠️ If you're not a paying subscriber, here's what you've missed lately 😉
In the next Friday Reads, I will focus on how the COVID-19 crisis is accelerating the shift in the healthcare industry.
As for today, I'd like to come back to one of my favorite topics: China in the Entrepreneurial Age 🇨🇳👇

1/ I've traveled quite a lot in Mainland China (and Hong Kong) over the past few years. I was first invited to Shanghai to teach at Fudan University in 2017. Then last year I visited several other large cities: Beijing, Shenzhen, Guangzhou, and the most important Chinese city you had never heard of until very recently—Wuhan! I'm glad I had the opportunity, as it could be a very long time before we can hop on a plane again and explore China in the future.
Travelling in China is not the same as reading about China. I know it's a cliché, but you need to be there to fully realize its scale and speed. And you need to talk to locals to better understand why China has been so successful in developing its economy over the past 40 years. Have a look at the anecdotes shared by my colleague Emilie Maret when we came back from our trip last year.
2/ I'm especially interested in China because it offers us a playbook that's very different from that of Silicon Valley when it comes to moving into the Entrepreneurial Age. Here's what I wrote a few months ago in a previous issue, Europe Is a Developing Economy:
The most interesting trend in global tech these past few years isn't anything that's been happening in the US. Rather, it's the rise of tech companies in China. Like many Westerners, I had long been uninterested in what was happening in Mainland China. I thought it was too far away, too different, and all happening in the impenetrable language that is Mandarin.

But I changed my mind following Alibaba's IPO in 2014. That moment triggered my interest, leading me to watch The Crocodile in the Yangtze, a movie that tells the story of Alibaba beating eBay on the Chinese market. I then read many books and articles, met many experts, and even had the opportunity to travel there twice…

Today, I'd say that the idea of China as a tech superpower has become widely acknowledged. But that doesn't make the country any less interesting.
And it's true that we French people tend to have a thing for China:
3/ But you've likely noticed that a backlash is happening, with more and more people in the West growing wary of China. Here's why:
4/ Whatever China's strengths and weaknesses, I'm convinced that there's something at work that is favorably disposed to Chinese success in the Entrepreneurial Age. Here's the quote by Henry Kissinger that led me to that conclusion:
Americans think a stable world is normal. And so, when the world isn't stable, then it's a problem. And if there's a problem, you solve it, and then you go on to something else.

Chinese leaders think that resolution of a problem is an admission ticket to another problem. So almost every Chinese leader that I've ever met has wanted to think, in a conceptual way, of policy as a process rather than as a program.
I later found echoes of Kissinger's powerful idea of "a process rather than a program" in my never-ending quest to understand more about China, its history, and its culture:
Let's rephrase all that in startup terms. China in the Entrepreneurial Age is so ruthlessly competitive that the only way to come out on top is to approach building your startup as an endless series of problems (Kissinger's "process rather than a program"). You can only survive this if you're in wu-wei ("the realization of a perfect economy of energy", which obviously starts with imitating others). In turn, being in wu-wei provides you with what makes the greatest entrepreneurs: de ("charismatic power"). De enables you to discover new things, turning the corner from imitation to innovation. And this is (almost) all you need to know to understand why China is doing so well in the realm of tech entrepreneurship.
5/ Now, what about China and the world? It's kind of a mixed bag:
6/ I fully understand why the US would drift apart from China. Trump is an extreme manifestation of that, and really he's just been recycling the prejudices he once had about Japan. Yet as several others have pointed out, there's something more at work:
7/ Where does that leave Europe? Do we have to emulate the US when it comes to handling our relationship with China? Whatever China's clumsy behavior on the international stage (and the aftermath of the COVID-19 epidemic in Wuhan has certainly provided many opportunities for such behavior), it's still very difficult for anyone in Europe to consider China as a foe. Two reasons:
8/ All this being said, I have been reading a lot recently about the history of the Cold War, and for me it's now clear that from a Western perspective China is today's equivalent of the Soviet Union:
My recent readings on the Cold War, notably with this book, The Wise Men, indicate that understanding the Soviet Union in 1945 was as difficult as understanding China today. The cultural and political gaps were just impossible to bridge, making it difficult to interact, let alone get along. Thus it's not absurd for Niall Ferguson to talk of the US-China relationship as the Second Cold War.
(Notice that just like during the Cold War, most Western European countries will want to cultivate tiny differences with the US in their relationship with the other superpower, China. And unlike during the Cold War, there's no strong sense of alignment between the US and Western Europe anyway.)
9/ In any case, for many regions in the world China will become an example to watch—if not to follow. I understand the pessimistic view put forward by Peter Zeihan: as he argues in his book Disunited Nations, China is doing very badly in its geographic and demographic perspectives. But I think that China can still make the most of the current technological revolution, setting a precedent in terms of reconciling prosperity and stability through a social contract that fits the Entrepreneurial Age, even if that contract is radically incompatible with our Western democratic values.
For example, there's how the regime makes the most of technology not only to implement massive surveillance and censor what individuals have to say, but also to be highly sensitive to what's happening at every level of society. As written by Elenoire Laudieri di Biase, "The CCP knows that it needs to stay connected to the people in order to sustain its primary role in the government of the nation. The Chinese are not as quiescent as many Western people tend to believe. Every year there are an estimated 150,000 protests, rallies and demonstrations across the country and it's a high priority for the party that they remain manageable and localised. And where possible, the party tries to respond to public concerns." We know that they didn't really do that early in the COVID-19 crisis, but they caught up quickly.
Then there are the many other things that China is doing better than most countries in the West. Their financial and payment systems are now way ahead, with the pace of innovation increasing in financial services, consumer Internet, and other sectors. There's the intriguing and sometimes frightening "social credit" system being experimented with in the Shandong province—and yet it's much more nuanced than what the Western press would lead you to believe. There's the fact that China knows how to build and manage dense, modern cities—with all the infrastructure that you need in transportation, housing, retail, healthcare, and others. (This is in sharp contrast to what can be observed in the US and Europe, and it makes a huge difference on the COVID-19 front!)
Because China is setting an example in so many respects, they've begun to export their model—starting with Central Asia and Africa, while also making inroads in Europe. Again, I think most of their model is incompatible with who we are in the West. But if we don't come up with our own model, China will become the core of the Entrepreneurial Age in Eurasia, taking over from the US. And for lack of a better solution we in Europe will be forced to adopt a diluted version of the Chinese model that I call "the Chinese model, with Western characteristics" (I'll write more about that in the future). 
10/ In conclusion, what should our relationship with China be?
Despite the current setbacks, I sincerely hope to have more opportunities to travel to China and learn from its entrepreneurs, investors, and policymakers exploring the frontier in the Entrepreneurial Age.

⚠️ Yesterday my wife Laetitia Vitaud and I launched Nouveau Départ. It's a French-speaking media hosted on Substack. Here are the details:
🦊 In the meantime, my cofounder Alice Zagury is continuing her daily show, Good Vibes, where she sits down with an entrepreneur to talk about their business and how they're staying positive during the ongoing crisis. You can find the schedule on our website, and past episodes are available on our YouTube channel, Startupfood.

The comprehensive reading list attached to the European Straits weekly essay is part of the Friday Reads paid edition. Subscribe if you want to receive a list of articles to dig deeper into China!
From Normandy, France 🇫🇷
Nicolas