Discover more from European Straits
The Entrepreneurial Age, viewed from Europe
Over 10,000 subscribers
What's Happening in India?
European Straits #178
Hi, it's Nicolas from The Family. Today, I'm discussing the shifting tech landscape in India and the lessons we can draw from it.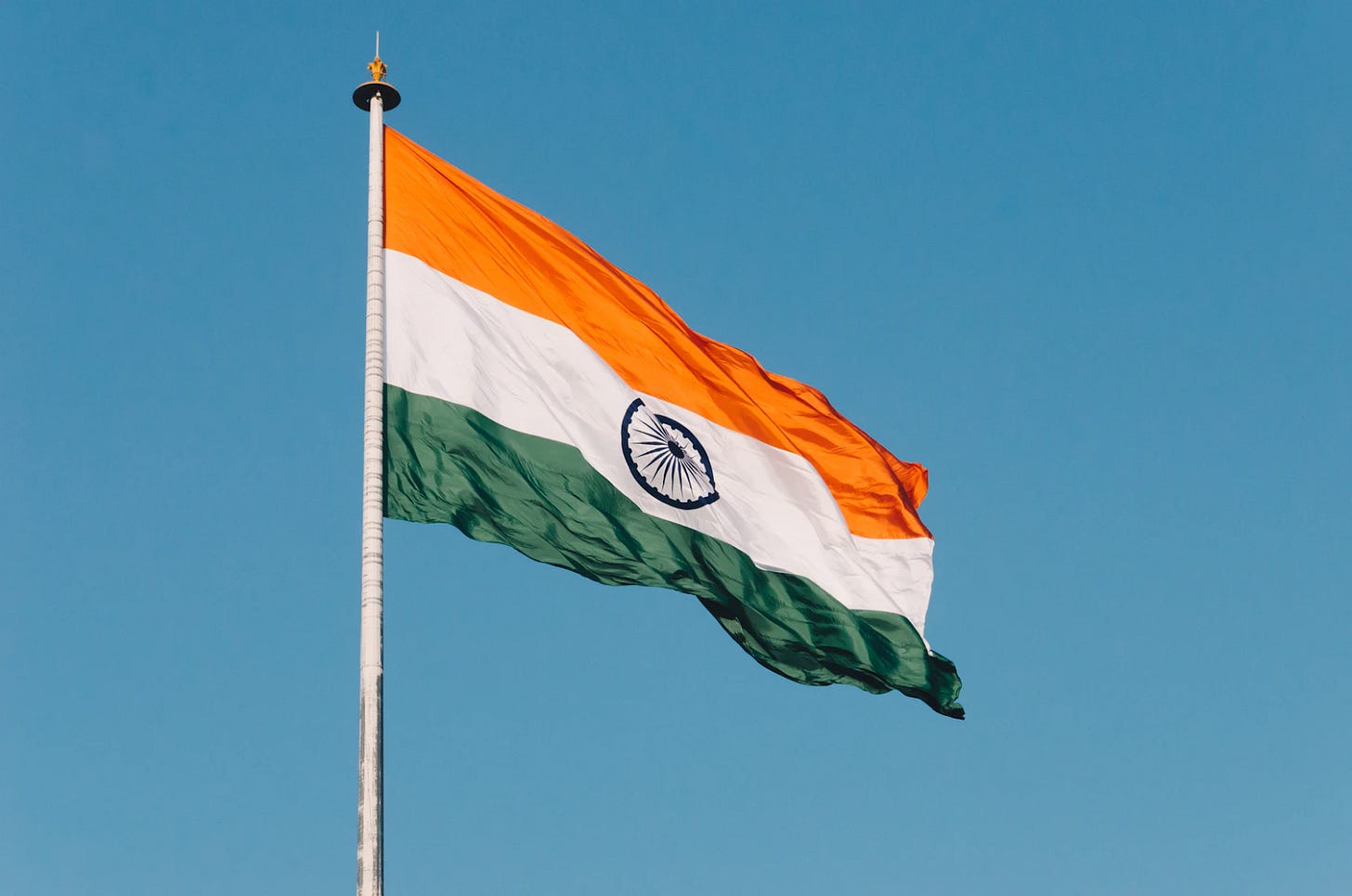 If, like me, you're paying attention to tech, you've seen that India has emerged on the global radar recently. Specifically, Jio Platforms, India's largest mobile network (owned by Mukesh Ambani's Reliance Industries Ltd.), has been attracting a string of investments by prime brands such as Facebook ($5.7B), Silver Lake ($747M), Vista Equity Partners ($1.5B), General Atlantic ($870M), KKR ($1.5B), Mubadala ($1.2B), and the Abu Dhabi Investment Authority ($750M)—all over the course of 8 weeks 😮
My immediate reaction was that something BIG was going on in India, and that I should write something about it. I dug into my Evernote, and here's a first round 👇

1/ I can't say I know India well. In fact, Here's what I wrote exactly two years ago in India: The Other Asian Giant:
There are only so many things about India that we in the West have seen on a regular basis, and those come largely thanks to the amount of pop culture surrounding it. I grew up learning parts of Indian culture and history—notably I remember being impressed by a riveting graphic novel on the life of Gandhi, and then watching Peter Brook's 6-hour enactment of the Mahabharata with my mother on French TV (I was so enthusiastic that I then bought, and read, the book)...
Thankfully, my knowledge of the country has been deepening since I met James Crabtree last year in Singapore. I can't say James and I spent that much time together, but our brief encounter (in an Indian restaurant near the Lee Kuan Yew School of Public Policy, where he's on the faculty) triggered an ongoing conversation via WhatsApp, our respective newsletters (have a look at his!) and, more recently, Zoom.
2/ James's book, The Billionaire Raj, is the best introduction to the current situation in India, from both an economic and a political perspective. Three key things have stuck with me.
First, for several decades following independence in 1947, India was the bureaucratic, proto-socialist country that we've all heard about (or experienced as a traveller, like my wife Laetitia Vitaud):
3/ Another idea that frames James's book is that the Indian path to development might be similar to what the US went through in the 19th century. Before America discovered the concept of the middle class and became prosperous thanks to it, the country went through a phase known as the "Gilded Age". It was when inequalities reached a high point, a clique of oligarchs (the "Robber Barons") basically owned the government, and any attempt at inventing a more favorable social contract for the many was quickly squashed. And yet despite that period, the US ended up unleashing a formidable growth engine that eventually benefited most Americans, not only those at the top of the social ladder.
As the title says, James's book is focused on the Indian billionaire class; in it, he insists on the fact that since the end of the Licence Raj, India has become one of the world's most unequal countries. Yet the current mix of political tension, cronyism, fast-pace innovation, and massive infrastructure spending (which is often related to cronyism 🤔) resembles the American Gilded Age so much that there's a credible scenario in which India moves forward and learns to combine stability, economic security for the many, and widespread prosperity at the national level.
4/ Finally, there's a central character in James's book who has been in the news a lot recently: Mukesh Ambani, the chairman and largest shareholder of Reliance Industries Ltd. Here's the short story:
Hence my question: What's going on? For years, we've all been looking East, but mostly to China. Yet now India is emerging on the radar. James's book provides all the background you need to interpret the most recent developments. But I'd like to dig deeper and draw some lessons as to what's becoming of the global digital economy now that India seems to be emerging as a tech powerhouse in its own right.
5/ My first analysis of those big investors flocking into Reliance Jio Platforms' cap table is that they're all looking for a fallback position in the context of the Second Cold War (that between China and the US).
Since economic growth is now driven by computing and networks, you need very large markets to make the most of the powerful network effects that exist in industries eaten by software—or, for that matter, in telecommunications, the mother of all network-driven industries. As a result, all those large tech companies in search of growth on very large markets are hunting for markets that harbor potentially hundreds of millions of users, which means that's it's all about conquering either China, the US, the European Single Market... or India—provided the Indian market is actually a thing.
At first sight, it's exactly what's been happening. Facebook invested $5B+ in Jio Platforms to secure a gateway to the huge Indian market for its many applications, notably WhatsApp. And if there was any doubt, Facebook's investment immediately triggered counter-positioning by Amazon (which is reportedly considering a $2B investment in Indian telecom operator Bharti Airtel), Google (which is exploring an investment in Vodafone's struggling India business), and Microsoft (which might join other investors in Jio Platforms, with a $2B stake). Only Apple seems to be missing at the party of US tech giants taking stakes in one of India's telcos.
6/ Let's start with Facebook. It's not the first time they've tried to enter the Indian market via an infrastructure-level position. And that previous time ended very badly, as explained here (The Guardian's The inside story of Facebook's biggest setback):
When I asked the Facebook executive why the company had failed to heed the growing protests and carried on fighting so hard for [its value proposition in India] Free Basics, he pointed to Zuckerberg's intense belief in Facebook's mission. "This happens every time Facebook pushes out a new change," he said. "New privacy settings? People protest, Facebook changes it just a little, and people get used to it. The same thing probably happened here. Mark would have thought people would get used to it."
Here's the thing: you have to admit Mark Zuckerberg is as relentless as a good entrepreneur can be, and he is notoriously (and rightfully, I'd say) obsessed with expanding into large markets in Asia. He's been trying for years to enter the Chinese market, mostly in vain. Ultimately, he has opted to become a China foe, using the context of the Second Cold War to try and advance Facebook's interests with the US Congress (or with financial regulators when it comes to Libra). And since China's now closed to Facebook forever, he has to fall back on Asia's other giant market. But this time he went with a different playbook: instead of going it alone, he made an alliance with the most powerful man on the ground—Mukesh Ambani.
As an aside, here's Byrne Hobart's analysis on Facebook's strategy in India (from yesterday's The Diff):
Investing in India is tricky, because the government is intermittently aggressively protectionist, and sometimes launches sweeping crackdowns on previously-tolerated economic activity. One good way to stay on the right side of India's regulatory apparatus is to invest with Reliance. (The firm is powerful enough to get an exposé banned, for example.) But another way is to make an investment that aligns with the state's priorities.
7/ Now, I've been reflecting a lot on super apps, and I think that's what everyone has in mind here. As a reminder, Tencent's WeChat is the mother of all super apps—a Chinese app that provides its users with access to many other apps (like what iOS and the App Store are to owners of an iPhone, except that WeChat users only use their mobile phone, to the exclusion of any other device).
Clearly, Jio Platforms is more than a telecommunications network. As its name suggests, it's also a platform commanding access to applications such as JioMoney (digital currency and payments services), JioCloud (cloud storage services), Jio Apps (applications for entertainment, social connectivity, music and news), JioMart (online grocery delivery services in partnership with Reliance Retail—you can't make this up), and Jio Meet (video-conferencing platform—clearly a useful tool during a pandemic).
This is all happening in the context of the Indian economy's very swift shift to digital. A few years ago, the government tried to suppress cash so as to curb corruption. It's mostly been a fiasco, but there are many reasons to think that Jio Platforms will play a key role in relaunching the initiative. Like happened in China, that could tip the balance and dramatically upgrade the country's financial services industry. Here's what I wrote about mobile payments in China some time ago:
The story of how Tencent forced the shift to mobile payments in China is worth remembering. It was a bold entrepreneurial move during which hundreds of millions of dollars were deployed in a matter of weeks and after which the Chinese economy was changed forever: higher velocity of money, massive amounts of data, and the emergence of uniquely Chinese business models that represent a convincing alternative to advertising.
8/ My guess is that this is all very difficult for people in Europe or North America to understand. We don't understand how services can be bundled and operated under one company's umbrella when we don't have any one large company that we'd trust with everything—and the government wouldn't allow it anyway. Well, there are two things that are different in India:
In the end, it's all about industrial policy. You can't understand the rise of Reliance Jio Platforms if you don't realize how much their interests are aligned with those of Prime Minister's Narendra Modi. The same game can't really be played in the US because Silicon Valley is way past the point of depending on the government (or so it thinks). It can't be played in Europe because there's a dividing line between the European Union and its member states, and neither party can decide which local champions to support.
On the other hand, if you can summon enough firepower (that of a giant infrastructure, fueled by foreign capital and, if necessary, active support from the state), it can tilt the balance. For India, the path has been quite long: from the Licence Raj to the emergence of the first tech empires, mostly in IT services; and then from widespread deregulation to the emergence of the current billionaire fortunes finally striking a responsive chord with Modi's agenda of "Indian self-sufficiency".
9/ That it's happening now is a bit of a paradox, because India is not doing particularly well:
Finally, India is prone to protectionist impulses, which could make it difficult for outsiders to do business there in the future unless they make deals with local, government-anointed champions. Have a look at James's recent article in Nikkei:
Pursuing this aim is dragging India down a techno-nationalist path. "India's data must be controlled and owned by Indian people and not by corporates, especially global corporations," Ambani said in 2019. A range of regulations have followed, from data localization rules to e-commerce laws helping local players. Facebook may well have decided it needed an Indian partner to offer some measure of protection against being viewed as a feckless global outsider.
10/ What about Europe? The rise of Indian tech validates the idea of the 'Great Fragmentation'. There could be several developments:
This is a topic I'll be following up on over the next months in the paid section. Let me know what you think and what sources I should dig into. And by all means, consider subscribing to European Straits so as not to miss the European perspective in thinking about the current paradigm shift 👇

⚠️ There's more to European Straits than the weekly essay (which is sent to 8.5k recipients). If you're an executive confronted with tech-related challenges, or a financier who has Europe on their radar, you should subscribe to access additional updates on current tech-related affairs, deeper dives into corporate strategy and finance, the full archive and (soon) my personal knowledge base. 
In particular, the "Work in Progress" section includes ongoing work on topics as diverse as transforming legacy organizations, the future of consulting, investing in the Entrepreneurial Age, the state of tech ecosystems in countries such as Germany and the UK, and the greater role that private equity firms might play in tech in the future. Have a look and subscribe 👇
🤑 If you're interested in working together (beyond subscribing to this newsletter), here are some options:

🤓 I have about 200 inspiring articles tagged 'India' in my Evernote, with some authors being represented to a great extent. Here they are 👇
James Crabtree, whom I've already mentioned a great deal 👆, is the former correspondent of The Financial Times in Mumbai. His work is what I come back to whenever I want to learn more about Asia in general and India in particular.
François Godement, who until recently was with the European Council on Foreign Relations (now with Institut Montaigne), is among the most prominent experts on Asia in continental Europe—and specifically the one who introduced me to India. I'm glad to highlight his exceptional work.
Bruno Maçães, a former Portuguese minister in charge of European affairs and now an author and think tank contributor, has been writing on many things related to Asia, with China as his main focus, but also India as an illustrative example of the concept of a "civilizational state".
Arundhati Roy, an Indian author who won the Man Booker Prize for Fiction in 1997, has been writing recently about the political and religious divide in India. Her work reveals a lot about the future of India in the context of Martin Gurri's worldwide "Revolt of the Public".
👉🏻 To discover all these articles and many others related to today's edition, become a paying subscriber! The package will be sent to subscribers only with the forthcoming Friday Reads edition 🤗

😮 In case you missed it:
---
From Normandy, France 🇫🇷
Nicolas